Ayurveda Treatment in Kalari Rasayana by CGH Earth, India
An expansive feeling of oneness with the environment, an all pervading sense of openness that envelopes your body and spirit, a gentle throwback to a quieter pace of life where Nature is an ever tangible presence. At Kalari Rasayana, the journey to healing is filled with many discoveries.
The Ayurvedic treatments are offered here by a team passionately devoted to the cause of the natural way of life, as espoused in the ancient texts. The Ayurvedic therapy as prescribed by the Vaidyas (doctor) includes various treatments suited to individual conditions along with their accompanying detox processes such as ghee intake and massages, besides internal and external medicines. This in combination with Yoga, Meditation and cultural programmes enable the transition to health and vitality. Further, with food being a core factor in Ayurvedic treatment, the kitchen at Kalari Rasayana is managed by a chef fiercely dedicated to the preparation of health-inducing food for the guests using natural and organically grown ingredients .
Center Overview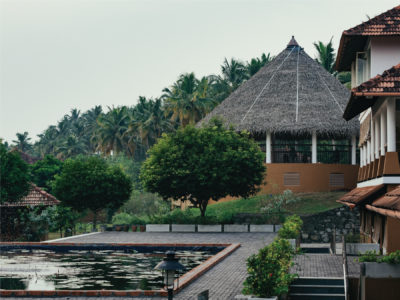 Welcome to Kalari Rasayana where one can experience the quiet unfolding of Nature's play in all its hues and moods and bask in the peaceful rhythm of everyday life.
Kalari Rasayana is a place where healing is activated by its sheer tranquility and beauty. Set in the heart of the backwater area of the Paravur Village, the place is an absolute abode of peace. Gazing at its gentle waves, watching the fishermen going about their daily rounds on their boats, hearing the distant roar of the sea beyond the horizon and more can by themselves calm the nerves fraught by the vagaries of an urban lifestyle. Spread over 8 acres of coconut grove land, Kalari Rasayana offers 22 rooms that are wellequipped with modern amenities and a clinic with 11 treatment rooms. The living spaces at Kalari Rasayana help in the healing process with their soothing and pleasant ambience.
---