Addiction Detox Program by Tabula Rasa Retreat in Alentejo, Portugal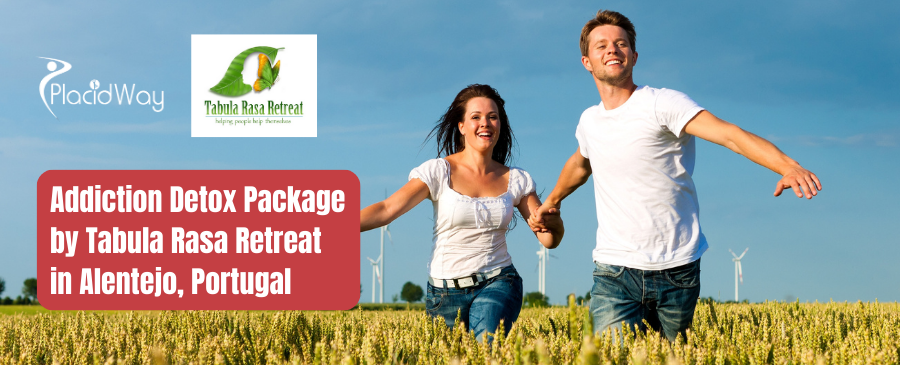 Reclaim Your Life with Addiction Detox Program in Alentejo, Portugal, Europe
In the heart of Alentejo, Portugal, lies a sanctuary of hope and renewal known as Tabula Rasa Retreat. Addiction, a formidable foe, loses its grip as individuals embark on a life-altering journey within these serene landscapes. The Addiction Detox Program, a beacon of promise, empowers those seeking freedom from the chains of addiction, providing them with a fresh start on the path to healing.
At Tabula Rasa, our holistic approach harmonizes with the expertise of our compassionate team, who are devoted to addressing every facet of addiction's grasp. From the physical to the emotional, and delving deep into the psychological aspects, we leave no stone unturned in the quest for lasting recovery. Participants are enveloped in a cocoon of personalized care, supported by evidence-based therapies that mend the wounds of addiction.
The retreat's aura of tranquility serves as the perfect backdrop for transformation, as individuals find solace in the embrace of nature and the peaceful ambiance. As the days unfold, the once heavy burden of addiction begins to lighten, making space for newfound hope and optimism. Armed with the essential tools for a healthier and addiction-free existence, attendees emerge from Tabula Rasa Retreat, ready to script a brighter future filled with boundless possibilities.
Cost of Addiction Detox Therapy in Alentejo, Portugal
Embark on a transformative journey towards healing and freedom from addiction at Tabula Rasa Retreat in Alentejo, Portugal, where our Addiction Detox Program awaits you. With prices starting at €6,621 or $7,272, this comprehensive program offers a fresh start and empowers individuals to break free from the shackles of addiction. For more detailed information on our price list, please refer below. Take the first step towards a healthier and addiction-free life with us.
| | | |
| --- | --- | --- |
| Location | Cost in Euro/USD | Clinic |
| Alentejo, Portugal, Europe | €6,621 or $7,272 | Tabula Rasa Retreat |
Note: price may change and vary depends on complexity of procedures and patient conditions.
Top 5 Reasons to Choose Addiction Detox Therapy in Alentejo, Portugal, Europe
Serene Setting: Alentejo, Portugal, offers a picturesque backdrop for healing. The peaceful environment aids in relaxation, helping participants find tranquility during their recovery journey.
Customized Treatment Plans: We recognize that every individual's struggle with addiction is different. Hence, we tailor our treatment plans to cater to specific needs, ensuring a higher chance of successful outcomes.
Holistic Approach: Our Addiction Detox Program adopts a holistic approach to treatment, focusing on the mind, body, and spirit. We combine evidence-based therapies, mindfulness practices, and nutritious meals to promote overall well-being.
Expert Medical Team: At Tabula Rasa Retreat, our experienced medical professionals and therapists specialize in addiction recovery. They provide personalized care and support, ensuring that each participant's unique needs are addressed.
Aftercare Support: Our commitment to participants does not end after the program. We provide comprehensive aftercare support to help individuals maintain their sobriety and cope with life's challenges.
Center Overview
Experienced Addiction Detox Specialist in Alentejo, Portugal by Tabula Rasa Retreat
At Tabula Rasa Retreat in Alentejo, Portugal, our Addiction Detox Program is in the hands of experienced and specialized addiction medicine doctors. With their expert guidance, participants can rest assured that their journey towards recovery is well-monitored and tailored to their unique needs. Our dedicated team closely tracks progress and makes necessary adjustments to the treatment plan, ensuring the highest level of care and support throughout the transformative process. See below for more details about our skilled addiction detox specialists.
Best Doctors for Addiction Therapy in Portugal, Europe

Alvaro de Ferranti

Jade Ziani de Ferranti

Rodrigo Teixeira

Binod Aryal
What to Expect During the Addiction Detox Therapy at Tabula Rasa Retreat
Thorough Assessment: Before commencing the Addiction Detox Therapy, you can expect a comprehensive assessment by our medical team to determine the best approach for your unique needs and circumstances.
Safe and Supportive Environment: During the detox process, you will be provided with a safe and supportive environment where our skilled professionals will monitor your progress and ensure your well-being.
Medication Management: Depending on the type and severity of addiction, medication may be administered to ease withdrawal symptoms and facilitate a smoother detoxification process.
24/7 Medical Supervision: Our Addiction Detox Therapy offers round-the-clock medical supervision to address any potential complications or discomforts that may arise during the detoxification phase.
Therapeutic Support: Alongside medical care, you will receive therapeutic support, including counseling and evidence-based therapies, to address the emotional and psychological aspects of addiction and lay the groundwork for further treatment.
Is Addiction Detox Therapy Right for You?
Whenever you find yourself caught in the relentless grip of addiction, remember that there is hope for a brighter future. Whenever the weight of substance abuse becomes unbearable, consider seeking help through Addiction Detox Therapy at our wellness center. This transformative approach focuses on safely removing addictive substances from your body and providing the necessary support for your journey to recovery.
Whenever you feel ready to take control of your life, our experienced medical team and holistic approach will be here to address the physical, emotional, and psychological aspects of addiction. Embrace the chance for personalized care and evidence-based therapies, allowing yourself the opportunity to break free from the chains of addiction and step into a healthier, addiction-free life. Remember, you don't have to face this struggle alone – whenever you're ready, we'll be here to guide you towards a path of healing and hope.
Frequently Asked Questions (FAQs)
Q: How long does the Addiction Detox Therapy typically last?
A: The duration of Addiction Detox Therapy can vary depending on individual needs and the severity of addiction. It can last anywhere from a few days to a couple of weeks.
Q: Is medical supervision provided during the detox process?
A: Yes, 24/7 medical supervision is provided throughout the detoxification process to ensure safety and address any potential medical concerns.
Q: Are personalized treatment plans offered in Alentejo's Addiction Detox Therapy?
A: Yes, each individual receives a personalized treatment plan tailored to their specific needs and addiction history.
Q: What happens after completing Addiction Detox Therapy in Alentejo?
A: After completing Addiction Detox Therapy, individuals are encouraged to continue their recovery journey with further treatment options, such as counseling, therapy, and support groups, to maintain sobriety and promote long-term success.
Request a Consultation for Addiction Detox Program in Portugal, Europe at PlacidWay!
Are you or a loved one in need of a transformative journey towards recovery from addiction? PlacidWay offers a comprehensive Addiction Detox Program in Portugal, Europe, designed to provide a safe and supportive environment for individuals seeking to break free from the chains of addiction. Our experienced medical team and personalized treatment plans ensure that each individual receives the care they deserve on their path to sobriety. Request a consultation now and take the first step towards a brighter future filled with hope and healing. Let PlacidWay guide you on this life-changing journey towards a healthier and addiction-free life in beautiful Portugal, Europe.