Ayurveda Relaxation Program in Viale Marconi Castrocaro, Italy by Lucia Magnani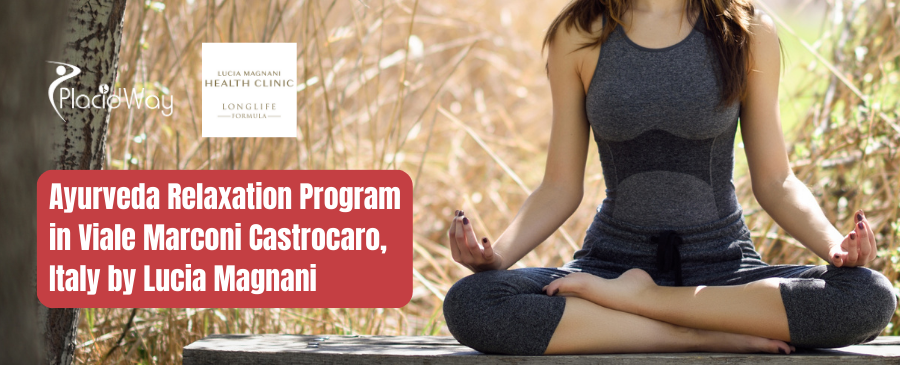 Ayurveda Relaxation Program in Castrocaro, Italy by Lucia Magnani – 1 Person 7 Nights
Nestled amidst the serene landscapes of Viale Marconi in Castrocaro, Italy, the Ayurveda Relaxation Program, meticulously crafted by Lucia Magnani, beckons individuals to a revitalizing haven. This meticulously designed 7-night sanctuary goes beyond the conventional, offering a path to reclaim psycho-physical equilibrium and seek refuge from the tumultuous demands of modern existence. The program's core essence lies in aiding guests in not only rebalancing their inner harmony but also in imparting the wisdom to manage stress and attain natural rejuvenation devoid of pharmaceutical intervention.
Central to the program's philosophy is a meticulously tailored regimen aimed at fostering a salubrious lifestyle and thwarting the emergence of burnout or despondency. By combining physical activities focused on harmonizing the nervous system, enhancing posture, elongating muscles, and practicing yoga, meditation, Aqua Reborn, and Reiki sessions, participants are led towards an oasis of tranquility and self-awareness. Complemented by a series of rituals designed to alleviate stress, including tension-relieving body and facial massages, Ayurvedic therapies, and serene sessions on the ethereal Zero Body floating beds, the program culminates in a state of profound relaxation and mental serenity, facilitated by the therapeutic effects of the thermal waters. Tensions dissolve, supplanted by the euphoria of newfound mental and physical lightness.
This holistic journey orchestrated by Lucia Magnani transcends the ordinary, providing an unparalleled platform for profound rejuvenation. As the program delves into stress management techniques, guides individuals in embracing organic repose, and instills the art of maintaining inner peace sans medication, participants embark on a transformative odyssey. The outcome is not merely a reinvigorated body but also a repertoire of enduring tools, enabling a poised and serene confrontation of life's trials and tribulations.
Cost of Ayurveda Relaxation Program in Castrocaro, Italy by Lucia Magnani
Embark on the transformative journey of the Relaxation Program at Viale Marconi in Castrocaro, Italy, curated by Lucia Magnani, where rejuvenation meets serenity. This extraordinary experience, designed to restore psycho-physical equilibrium and alleviate the strains of modern life, is now accessible with prices starting at $6,000. For a comprehensive breakdown of program costs, please consult the price list table provided below. Indulge in the opportunity to invest in your well-being and embrace the harmonious balance that awaits amidst the picturesque landscapes of Italy's tranquil haven.
| | | |
| --- | --- | --- |
| Location | Cost in USD | Provider |
| Castrocaro, Italy | $6,000 | |
Note: price may change and vary depends on complexity of procedures and patient conditions.
Ayurveda Relaxation Program Inclusions:
Guided physical activity plan to balance the nervous system
Yoga and meditation sessions for mental serenity
Aqua Reborn and Reiki sessions for holistic healing
Tension-relieving body and facial massages
Ayurvedic treatments tailored for relaxation
Therapeutic sessions on Zero Body floating beds
Access to the rejuvenating thermal waters
Expert guidance from experienced instructors
Personalized support throughout the program
Immersion in the tranquil landscapes of Castrocaro, Italy
Ayurveda Relaxation Program Exclusions:
Travel expenses to and from Viale Marconi, Castrocaro
Accommodation charges during the program
Additional spa or wellness services beyond the program
Personal purchases and souvenirs
Optional excursions or activities
Medical treatments or services not specified in the program
Special dietary requirements or meals outside the program
Personal insurance coverage
Tips or gratuities for staff or instructors
Any expenses not explicitly mentioned in the inclusions
Ayurveda Relaxation Program Pre-Op Tests:
General health assessment
Psychological well-being evaluation
Physical fitness assessment
Nervous system analysis
Stress levels measurement
Posture and flexibility evaluation
Consultation with Ayurvedic experts
Discussion of individual goals and expectations
Identification of potential contraindications
Customization of the program based on pre-op tests' results
Center Overview
Ayurveda Doctor in Viale Marconi Castrocaro, Italy by Lucia Magnani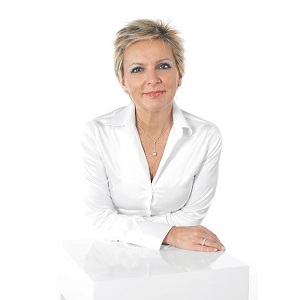 Nestled within the essence of the Relaxation Program in Viale Marconi, Castrocaro, Italy, is the invaluable guidance of a team of seasoned medical practitioners, spearheaded by the esteemed CEO and Doctor Lucia Magnani. These experts, well-versed in the realms of holistic wellness and stress management, work in seamless harmony, weaving their medical acumen with wellness methodologies to curate a profound and transformative expedition towards achieving a harmonious state of balance and tranquility.
FAQs (Frequently Asked Questions)
1. FAQ: What is the Ayurveda Relaxation Program in Viale Marconi, Castrocaro, Italy?
Answer: The Ayurveda Relaxation Program in Viale Marconi, Castrocaro, Italy, is a meticulously designed 7-night rejuvenation journey curated by Lucia Magnani. It focuses on restoring psycho-physical balance, managing stress, and promoting natural rest without the use of medication. The program combines activities like yoga, meditation, Aqua Reborn, and Reiki with anti-stress rituals such as body and facial massages, Ayurvedic treatments, and sessions on Zero Body floating beds.
2. FAQ: Who is suitable for the Ayurveda Relaxation Program?
Answer: The program is ideal for individuals seeking to alleviate stress, rejuvenate their mind and body, and attain inner calm. Whether you're dealing with burnout, looking to enhance stress management skills, or simply longing for a holistic retreat, this program offers a transformative experience tailored to your well-being goals.
3. FAQ: What sets the Ayurveda Relaxation Program apart?
Answer: The program distinguishes itself through its holistic approach that combines ancient Ayurvedic principles with modern wellness techniques. Led by experts, it includes tailored physical activities, stress-reducing rituals, and immersion in thermal waters. Its emphasis on natural rest and drug-free rejuvenation stands as a unique offering in the world of wellness.
4. FAQ: How are the Ayurveda Relaxation Program instructors qualified?
Answer: The program is led by seasoned medical practitioners, with Doctor Lucia Magnani at the forefront. These experts possess extensive knowledge in holistic wellness, stress management, and Ayurvedic practices. They collaboratively guide participants through the program, ensuring a harmonious blend of medical insights and wellness methodologies.
5. FAQ: What pre-op tests are conducted as part of the program?
Answer: The Ayurveda Relaxation Program begins with a series of pre-op tests, including a general health assessment, psychological evaluation, physical fitness analysis, nervous system assessment, stress level measurement, and posture and flexibility evaluation. These tests lay the foundation for a customized program that caters to individual needs and aspirations.
6. FAQ: How can I learn more and plan my participation in the program?
Answer: To gather more information about the Ayurveda Relaxation Program in Viale Marconi, Castrocaro, Italy, you can avail a free consultation through PlacidWay. Our experts will provide detailed insights, address your queries, and offer personalized recommendations, ensuring your experience aligns perfectly with your wellness goals and expectations.
Is the Relaxation Program Right for You?
If you find yourself grappling with the demands of modern life, seeking respite from stress, and yearning to rediscover a sense of inner equilibrium, the Relaxation Program is tailor-made for you. Whether you're navigating the complexities of burnout, seeking to enhance your stress management skills, or simply yearning for a holistic escape to rejuvenate your mind and body, this program offers a transformative journey towards sustainable well-being. With a focus on natural rest, stress alleviation, and the cultivation of inner serenity, the program embraces individuals ready to embark on a path to holistic rejuvenation.
What to Expect During the Relaxation Program
Prepare to embark on a holistic odyssey that embraces both body and mind. The Relaxation Program, guided by experienced experts, commences with a comprehensive assessment to tailor the journey to your unique needs and goals. Engage in a curated blend of physical activities, including yoga, meditation, and specialized sessions like Aqua Reborn and Reiki, meticulously designed to harmonize your nervous system and enhance your well-being. Experience the soothing touch of tension-relieving massages, Ayurvedic therapies, and the ethereal comfort of Zero Body floating beds. As you immerse yourself in the therapeutic embrace of thermal waters, tensions will dissipate, leaving space for a renewed sense of mental clarity and muscular lightness.
Request a Consultation for Relaxation Program in Castrocaro, Italy at PlacidWay!
Embarking on a journey towards holistic well-being has never been easier. PlacidWay offers a free consultation to guide you through the nuances of the Relaxation Program in Castrocaro, Italy. Allow our experts to provide you with comprehensive insights, address your queries, and offer tailored recommendations to ensure your experience aligns seamlessly with your aspirations. Reclaim your psycho-physical balance and experience the transformation that awaits amidst the tranquil landscapes of Viale Marconi, Castrocaro, Italy.